This world is a combination of man and woman, with different religion,caste or color but everyone needs the vehicle to live in todays world.
With the passage of time the automobile sector has gone with a rapid increment in technology. Under automobiles comes the bikes, some call it machine ,some call it beast , some call it love.
Everyone in todays world is crazy about bikes and every bike lover is in need of speed all time.
Every boy ,girl ,man and world wants to travel as fast as possible so...for every dreamer here are the 10 fastest bikes available till 2017.
1.Kawasaki Ninja ZX-14R, 208.1 miles per hour-
At top speed of 208.1 mph Kawasaki Ninja ZX-14R is the second fastest production motorcycle till date. This super machine could cross 0 to 100 kmph in just 2.7 seconds. Ninja ZX-14R features a 1441 cc four valve liquid cooled engine. This superbike can produce a maximum power of 197.3 Bhp@ 10,000 rpm. For a decade, superbikes from Ninja series hold first position among the list of fastest motorcycles in world.
2.Suzuki Hayabusa, 194 miles per hour-
Named after the Japanese name of Peregrine Falcon, the fastest bird in the world which flies at a speed of 203 mph. At a top speed of 194 miles per hour, the Suzuki Hayabusa could even reach close to Peregrine falcon. It is the fastest superbike from Suzuki. This ultimate Hayabusa superbike features a 1397 cc four-cylinder 16 valves, liquid cooled engine that produce power of 197HP@6750 rpm.
3.MTT Turbine Superbike Y2K, 227 miles per hour-
A non-production motorcycle Marine Turbine Technologies which is recognized as 'the most powerful production motorcycle' by Guinness book of world records. To be specific, Turbine superbike Y2K is a wheel-driven motorcycle with a turboshaft engine that manufactured between 2000 and 2005.
This motorcycle has been designed to extract the heat energy from the exhaust and convert it as output power. It features Rolls-Royce 250-C18 turboshaft engine that produce a maximum power of 320 HP @ 52000 rpm. The top speed of Y2K superbike has been recorded at 227 miles per hour.
4.Dodge Tomahawk, 420 miles per hour-
At top speed of 420 mph, the Dodge Tomahawk is the world's fastest motorcycle ever produced. This ultimate superbike was unveiled by Dodge in 2003. According to the reports, only 9 of this motorcycle has been sold yet. Dodge Tomahawk features 8.3 liter, V-10 SRT 10 Dodge Viper engine. It can produce a maximum power of 500 HP. Unlike other superbikes, Dodge Tomahawk has a four wheels – two front wheels and two rear wheels. Surprisingly, Tomahawk could cross 0 to 60 mile in just 1.5 seconds.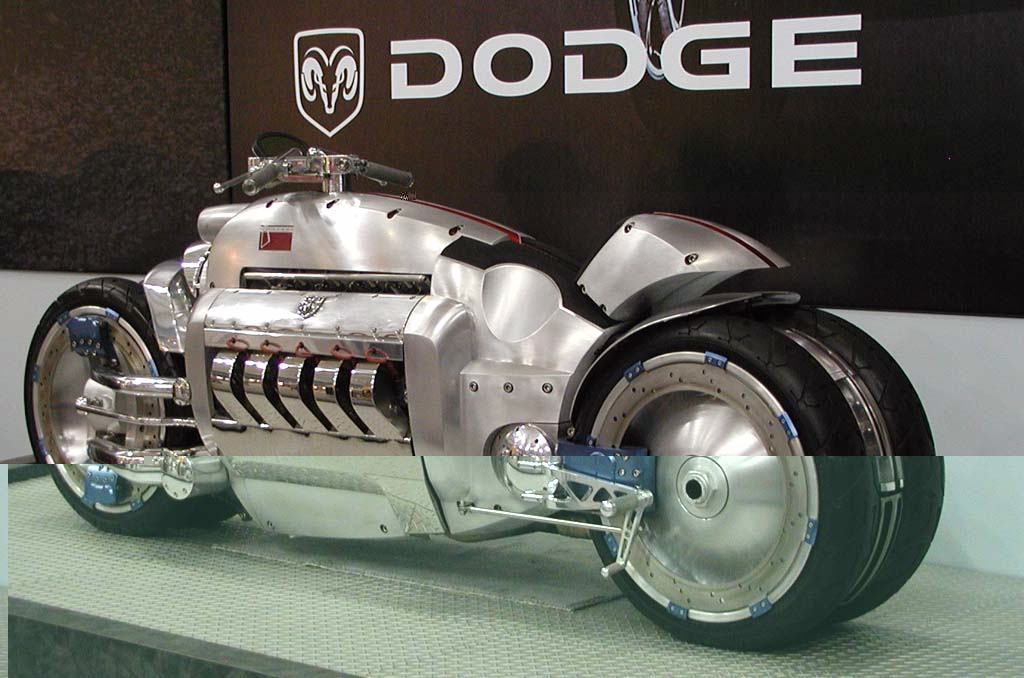 5.Kawasaki Ninja H2R, Over 249 miles per hour-
The hypersport Kawasaki Ninja H2R is the fastest production superbike till date. It's a track only motorcycle. At whopping 300 H.P power, the supercharged Ninja H2R can hit over 249 miles per hour. This unbelievably powerful machine features 998 cc supercharged DOHC inline-4 engine.
Kawasaki also uses trellis frame for the first time on Ninja H2R. It provides strength and better control to this motorcycle. Inspired by MotoGp and F1 racers, Kawasaki also includes dog-ring transmission which provides fast, smooth shifting.
6.BMW K 1200S, 174 miles per hour-
A hyper-sports touring motorcycle from BMW. It has an 1157 cc, 16 valve 4 cylinder engine, which generate power of 164 HP @ 10250 rpm. This motorcycle can reach a maximum speed of 174 miles per hour. It also has revolutionary suspensions and best brakes for stopping bike safely from blazing speed. This superbike also have very good design and look just like cars from the brand.
7.Aprilia RSV 1000R Mille – Top speed – 281 km/h (175mph)-
This is the 10 fastest bike of in the race of top 10 fastest bikes in the world 2017. Its engine is built by the Austrian company Rotax. Aprilia 1000R Mille from the Aprilia series is also very famous it is built in 2004 itself. This Aprilia motorcycle is using 6 speed chain drive transmission system.
Top speed –281 km/h (175mph)
Engine – 998cc 60 degree V-twin engine
Power – 141.13 hp (105.24 kW, 143.09PS) @10000 RPM
8.MV Agusta F4 1000 R – Top speed – 298km/h (185mph)-
Augsta F4 1000R was released to market in 2006 in Italy, with Brembo Monobloc radial brakes. The bike has Sachs rear shock absorber helping the bike in compression &rebound damping adjustable in high. The transmission system used by this motorcycle is multi-disc wet clutch on a 6 speed cassette gearbox. This is the 8th number fastest bike.
Top speed – 298km/h (185mph)
Engine – 998cc, inline 4 cylinder, 4 stroke , DOHC, 16 radial valves liquid cooled
Power – 195 bhp@13000 RPM
9.Lightning's LS-218 at 350kmph-
No road vehicle needs a 218 mph (350 km/h) top speed. No motorcycle needs to make 200 horsepower, with as much torque as a Hyundai iMax people mover. These are figures of absolute excess – and that's the point. The Lightning LS-218 will be a truly, horrifyingly fast motorcycle, the fastest on the planet. And it is available in 3 or 4 models and are according to the distance travelled with on one time charging. It is tje fastest electric or gas bike in the world.
10.HONDA CBR 1100 XX BACK BIRD-
A complete street beast of the times from the premier bike manufacturer, Honda. Released in Japan, the motorcycle was one if he first to have a premier 1137 cc, liquid cooled four cylinder engine with the top speed of the times at 310 kph.